Movie Collectables - Are they a good investment?
Good investment or should you unwrap them and play with them?
Most investments are a bit of a gamble and movie memorabilia is no different, but one thing is sure that some are a gold mine, but how do you know?
Well you don't and that's the truth but if you don't have them in mint condition then you definitely won't even have a shot and it seems it will always sell for more than you bought it for.
Could it end up worthless junk? Yes of course, but if you find the right buyer then you can make a profit and that has never been easier with he internet and all the places where sellers and buyers are connected.
However with a  little thought and paying attention to  what is popular it is definitely possible to get the right products. We have put together some ideas for you but remember to look after them because a beaten up toy is worth little but the closest to new the more valuable it will be. So you have to play with it then we suggest buying two. One to enjoy and one to store safely free from moisture and the elements to keep it in mint condition. 
Toys that turn a profit
1. Comic books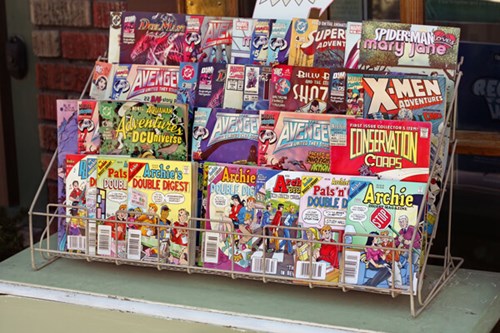 The right copy in your comic book collection could make you a major profit on your original purchase. Rare and vintage is the golden combination for comics, as one lucky owner of a 1938 copy of Action Comics found out when it sold for almost £770,000 at an auction in August this year.
The comic that launched Superman cost just 49p at the time of publication, which means its value increased by 157,000,000%.
Or to put it another way.
It doesn't take an expert to realise that 248,600,000% is an impressive return on any investment. That's what one comic book owner pocketed when they sold a first edition copy of Action Comics from 1938 (featuring the first ever appearance of Superman) for over £2.4m ($3.2m) on Ebay.
Other comics to reach astronomic values include a 1939 copy of Detective #27 featuring the first appearance of 'The Batman' that fetched $1,075,500 (£808,185) and the first ever Marvel comic published in October 1939 that went for $350,000 (£262,000). All three comics originally retailed at 10 Cents.
2. Dolls and figurines 
What's important is rarity and it far outweighs the popularity of a character when it comes to the value of your doll or figurine. Recalled items are particularly rare, so despite being considered faulty at the time, they can fetch thousands at auction.
A mint condition multi-pack of seven valuable Star Wars figures from The Empire Strikes Back fetched £21,242. The seven-piece set included miniatures of Han Solo, Boba Fett, Luke Skywalker, Lando Calrisson, and Lobot.
Vintage Barbie dolls can command a high price too. In 2006, a pristine, original Barbie was sold for £14,918 at auction. Its price tag in 1959 was just £1. Approximately a 1,500,000% profit.
Lego, technically classed as construction toys rather than figurines, surprisingly doesn't play by the same rules as most investment toys. Older does not mean more valuable, Lego sets from before the year 2000 aren't worth all that much. However, between 2000 and 2015, pristine condition Lego sets increased in value each year by 12%. Lego sets, particularly those tied to film promotions, are retired on a regular basis too, making them rarer and thus more valuable.
3. Board games
Forgotten games that never made it into the mainstream, or were discontinued due to a lack of popularity, can be real money-makers - more so than popular vintage games like Monopoly, which was more widely distributed. While it might seem a little sad, unopened (and thus un-played) games fetch the most, since it's safe to say all the pieces will still be in the box.
Invented back in 1938, versions of the rolled-up scroll/board game Buccaneer last year sold for £200.
While it's not quite a board game, Dungeons and Dragons with their renewed popularity, thanks to Netflix sensation, Stranger Things. A vintage white box set of Dungeons and Dragons role-playing storybooks is listed on eBay with an asking price of £55910, and that's a fifth printing! No listings appear for first printings, but chances are they could be worth a lot more.
4. Trading cards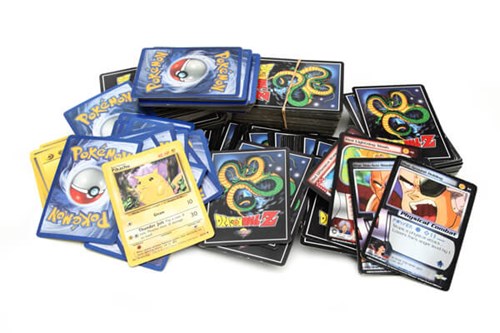 Back in the 90s, Pokemon cards retailed at around £3 for a pack of 10. Now, a full set of the first edition in top condition is worth a pretty penny – listings on Ebay range from £2000 – £20,000. Individual cards can be worth even more. If you own a series one 1999 'Charizard' holo-card, for example, it could fetch up to £3,000. The holy grail of cards is the Pikachu Illustrator card: one fetched £44,000 in 2016. Don't expect to find one lurking in your album though, as only around 39 were ever printed and few are thought to be in circulation today.
Holofoil, secret, promotional and first edition cards are among the most valuable Pokémon cards as are those with misprints on. A graded PSA 9 Pikachu Illustrator promo card sold on eBay in 2014 for a Snorlax-sized £54,545.
Before Pokemon, came the gruesome bubblegum trading card series, Garbage Pail Kids, a firm favourite from 1985. They don't command the dizzying values of Pokemon cards, but individual rare examples, like 'Nasty Nick' (card 1a from series one in 1985) are listed on Ebay for £400 in mint condition – a reasonable return for a 12p investment over 32 years.
Listings on eBay include a Nasty Nick #1 card from 1985 at a price of £2,415 and an unreleased Adam Bomb II card with an asking price of £2,013.
5. Toy cars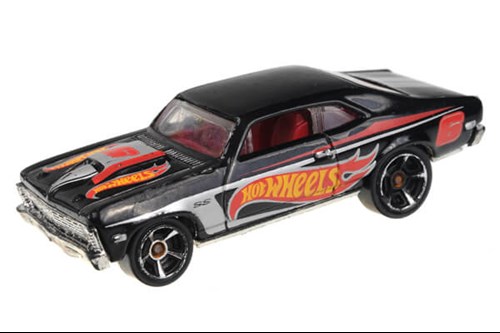 Highly collectable toy cars can be worth a brand new car of the line.
Original Matchbox cars, produced in the 50s, 60s and 70s can be quite valuable. One collection, made up of 2,281 cars, was auctioned off for £100,000 and individual pieces are on offer for incredible sums too. One tiny Morris Minor from Matchbox with a rare paint job listed on eBay for £950.
Rare colour schemes and designs can even bump up the price of popular Hot Wheels models from the 60s and 70s. A 1969 hot pink, rear-loading Volkswagen Beach Bomb, complete with surfboard accessory was bought for around £47,000 in 2000 by distinguished Hot Wheels collector, Bruce Pascal. Estimates from this year suggest the car is now worth between £80,000 and £121,000, with the Washington Journal calling it 'the most valuable Hot Wheels vehicle in the world'. Worth over 100k is a big feat for a car that originally cost 99 cents.
---